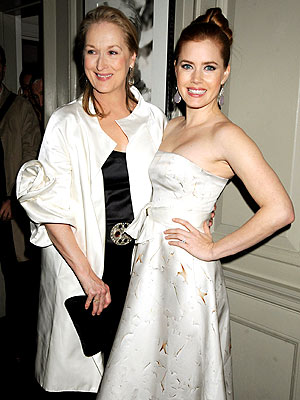 Hey everyone - before I get started on this new blog entry about Amy Adams, just wanted to thank you all for your lovely "welcome back" messages.; reading them truly made my day! I already know I won't be able to update the blog every day like I used to, but I'll try my best to do it at least once or twice a week. Anyways - back to what interest us more: Amy Adams.
I've just been informed that Amy has bought a house with future husband Darren Le Gallo. I have no idea where it is located, but my personal guess is on L.A as she spends most of her time there. I could be totally wrong though. She told PEOPLE magazine that given the slumpy economy, any time she wants to buy anything, she thinks: "
This could be a whole set of towels or an extra cushion on my bed!' I'm being very practical now that I bought a house
."
Despite suddenly being thrust into the limelight, in 2006 for her Oscar nomination in "Junebug", it wasn't as dramatic a change as the one Amy experienced last year with Enchanted so she's very cautious about her private life.
"
Before Enchanted it was very manageable
,'' she says. "
Suddenly you realise you are not a private person any more. But it's OK ... it's just jarring, you know, to realise everything you do can be scrutinised
.''
Amy Adams and co-star Meryl Streep attended a special screening Friday of "Doubt" at Brown's Hotel in London (see picture above and video
here
). They have now both arrived in Paris where they're going to present the drama "Doubt" Monday evening at the Theatre Edouard VII.
Source:
People, The Daily Telegraph